You're viewing a product from the en_us product catalog and it may not be available in your location. Please click on the "Products" link from the main menu to browse your local catalog.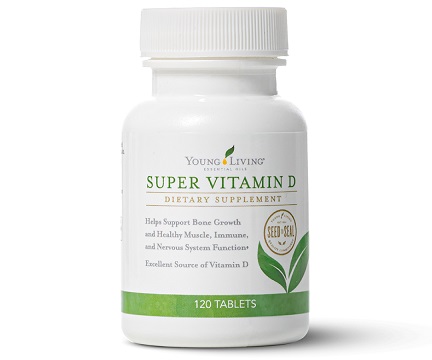 Who doesn't need a super boost of sunshine? With our proprietary formula and delivery system, Young Living's plant-based Super Vitamin D is highly absorbable, vegan friendly, and completely synthetic free. Dissolvable in a delicious mixed berry-flavored tablet, Super Vitamin D is a super source of vitamin D that helps support bone growth and healthy muscle.
Vitamin D plays a key function in respiratory health, and through its innate and adaptive defense mechanisms, it supports the body's respiratory immune system.* This dissolvable tablet is made with lemon balm extract and vitamin D to support mood and hormone regulation.
Super Vitamin D Product Information Page
Get to Know
PRODUCT BACKGROUND
Containing 250% of the daily value of Vitamin D, Super Vitamin D gives you the support you need, but from natural and plant-based sources in a dissolving tablet unlike any you've seen. Our Vitamin D3 is naturally sourced from sustainable lichen, a plant that's native to North America, Scandinavia, and Asia, and been historically used in European traditional medicine.

JOINED THE YOUNG LIVING FAMILY IN 2020
Ingredients
Product Snapshot
FEATURES & BENEFITS
Plant-based and vegan-friendly
Vitamin D plays a key function in respiratory health and through innate and adaptive defense mechanisms Vitamin D supports the body's respiratory immune system*.
Young Living's proprietary dissolving tablet complements busy lifestyles
Helps boost healthy immune systems
Vitamin D and lemon balm supports mood and hormone regulation
Helps support bone growth and healthy muscle
Supports calcium balance and bone growth
Contains no gluten, soy, dairy, egg, fish, shellfish, or nut-containing ingredients
Suggested Uses
How to Use
Take 2 tablets daily with food. Place in mouth and allow to dissolve for 5-10 seconds, then chew for optimal results.
STORAGE
Keep in a cool, dark place.
CAUTIONS: Keep out of reach of children. If you are pregnant, nursing, taking medication, or have a medical condition, consult a health care professional prior to use. *According to the Centre for Primary Care and Public Health clinical study PROSPERO CRD42014013953. Young Living Essential Oils, LC has not reviewed this study and makes no claims or warranties as to its accuracy or significance. These statements have not been evaluated by the Food and Drug Administration. Young Living products are not intended to diagnose, treat, cure, or prevent any disease.