You're viewing a product from the en_us product catalog and it may not be available in your location. Please click on the "Products" link from the main menu to browse your local catalog.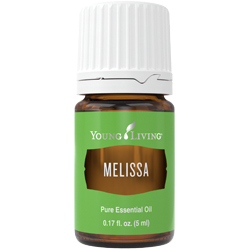 Melissa essential oil comes from the melissa plant, which is also known as lemon balm and is part of the Lamiaceae—or mint—family. Young Living Melissa oil comes from the St. Maries Lavender Farm and Distillery in Idaho, where the oil is steam distilled from aerial parts of the plant before it flowers.
Melissa essential oil has a grassy, lemony scent that creates a pleasant, calming atmosphere, and you can find it in Young Living blends such as Humility™, Forgiveness™, and Hope™. Additionally, Melissa is commonly found in cosmetics and personal care products because of its skin-benefitting properties.
Melissa essential oil uses
Combine a few drops with water in a glass spray bottle. Spritz on your face for a refreshing experience and uplifting aroma.
Add a couple of drops to your favorite body lotion and apply to skin in the evening for added moisture and a calming aroma.
Diffuse in the evening or during quiet times of the day to create a soothing, comforting atmosphere.
Add a few drops to your nightly skin regimen to support healthy-looking skin.

EarthKosher Certified
How to Use
 |
How to Use
Topical: Apply 2-4 drops of product directly to desired area. Dilution not required, except for the most sensitive skin. Use as needed. Aromatic: Diffuse up to 1 hour 3 times daily. Caution: Keep out of reach of children. For external use only. Keep away from eyes and mucous membranes. If you are pregnant, nursing, taking medication, or have a medical condition, consult a health professional prior to use.
Ingredients
Melissa officinalis
† (Melissa) leaf oil
†100% pure, therapeutic-grade essential oil